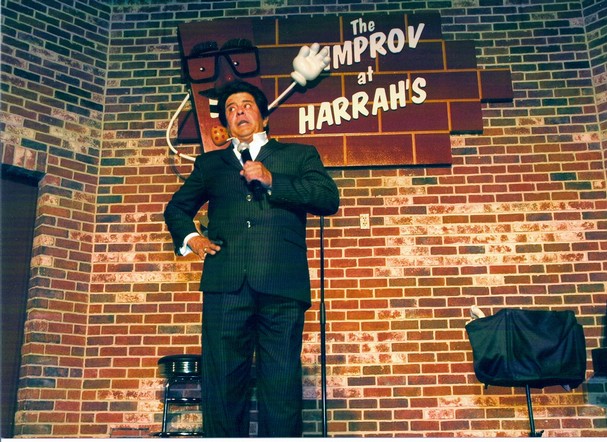 Happy the Entertainer Comedian

Watch Happy's videos on You Tube. Go to HAPPY ON THE TUBE button!

Happy, an international award-winning entertainer is one of the top twenty-five Latino comedians in the United States. Happy's performances have delighted thousands of diverse audiences who attend his comedy concerts, convention presentations, and private events throughout the United States, Mexico, and Puerto Rico.

Happy a past member of the Texas Magician's Association has won numerous awards in comedy and night club magic. He was also a member of the International Brotherhood of Magicians.

Happy has written and produced six comedy CD's, they are: Happy Live Disconnected, El Pachuco Dude, Dalé Gas, Happy Live! Chisquitito, Barely Reality and his most recent CD release, La Migra Gone Wild!. And is currently producing his latest CD, "What Was I Thinking?" Happy has recorded two comedy DVD's, Happy Live! I and Happy Live! II. He has been featured in two historical drama movies shot in South Texas "Anastacia", and "Harvest of Redemption", both are independent films released in April 2005 and 2006. Happy was the original host and co-producer of the comedy show "Que Loco¡" televised on the Galavision network. Happy's long stint as a morning show radio host has captivated many households, truckers, students and working people across Texas. His protégé "Chavito", continues to entertain countless audiences with his unique world view. Happy's latest project is working on his television program "Happy's On!" aired locally in Corpus Christi, Texas.

Happy's performances have thrilled and entertained audiences of all ages with his comedy and magic. The combination of his musical and comical talents makes his stand-up comedy show a totally unique and unforgettable experience. Happy's singing impersonations of artists like: Willie Nelson, Julio Iglesias, Antonio Aguilar, Luis Miguel, Juan Gabriel, Roy Orbison, Louis Armstrong, Rod Stewart, George Strait, The Stylistics, The Bee Gees, and many others, is a featured highlight of his show. Happy is also great on the guitar and harmonica as he incorporates comedy blues into his show!

Happy has entertained packed houses as the host of past Tejano Music Awards in the Alamo Dome in San Antonio Texas and was invited to resume the hosting duties, to the delight of fans, for the Tejano Music Awards held at the Kickapoo Lucky Eagle Casino in Eagle Pass, Texas.

Happy has appeared at the famed Improv Comedy Clubs in Los Angeles, California, Houston Texas, and returns to the Improv in Harrah's Hotel and Casino in Las Vegas on a regular basis. Happy has performed with Bill Cosby, George Lopez, Carlos Mencia, Paul Rodriquez, Bobby Lee, Thea Vidale and many other bands, including Intocable, Little Joe , Jay Perez, Ruben Ramos and the list goes on and on. Happy's dynamic performance is guaranteed to entertain, amuse and amaze his audiences. Happy continuously refreshes his comedy show to stay relevant and entertaining!